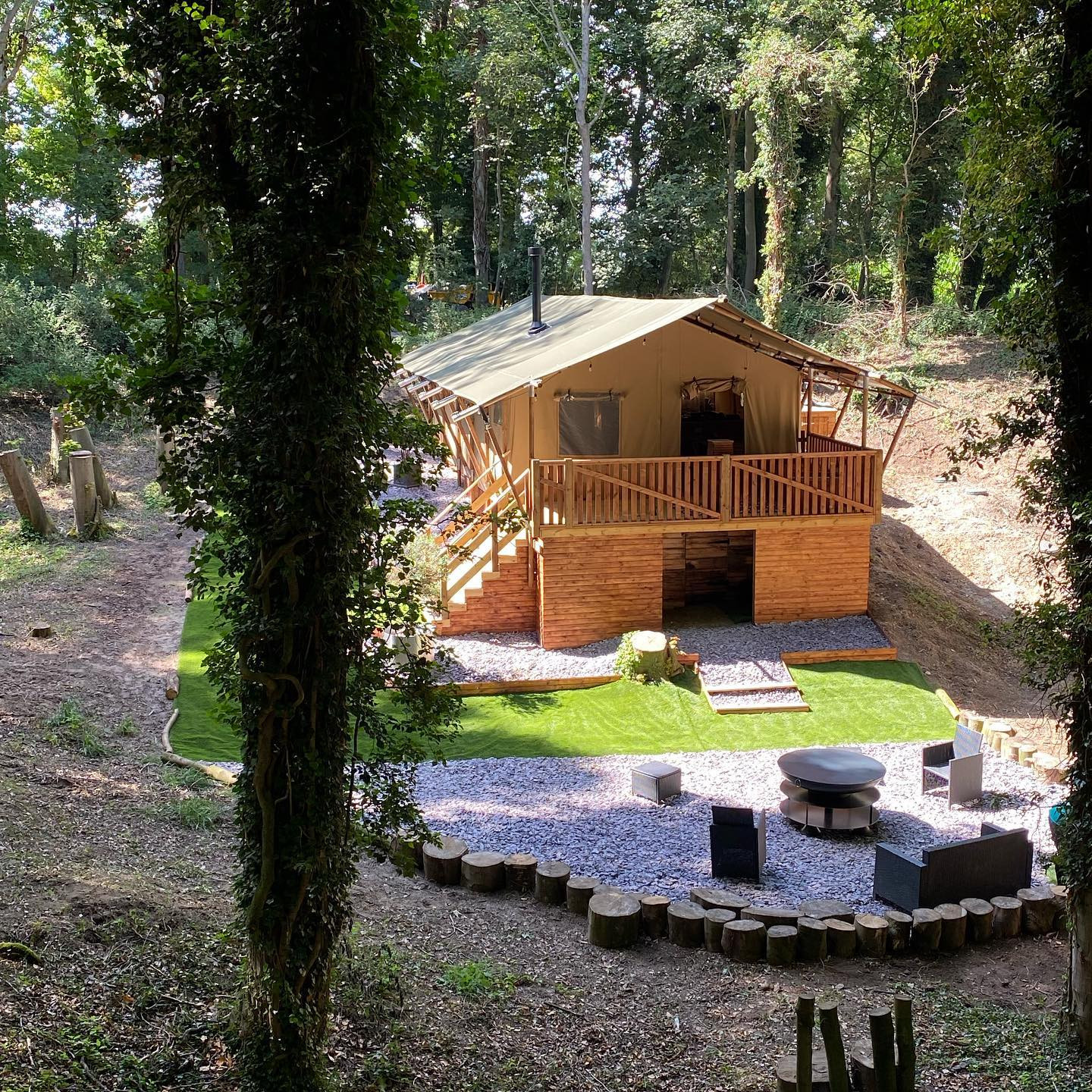 Giraffe Enclosure
Prices start at £560 for a midweek stay (4 nights).
Send Enquiries through "Contact Us".
Your widget will appear here.
New to Thompson Hall is our luxury Safari tent offering complete solitude and privacy from the world with no interaction from any other people and complete privacy. The Safari tent is set in a wooded dell under the canopy of mature beech trees. The wood is known as King Edward VIII wood and was planted on top of the old foundations of the Hall after it was demolished due to a dispute with the Tooke family. The dell was excavated to product the flint for the foundations of the old hall and the walled garden. This luxury Safari tent sleeps up to 6 people with amazing comfort and luxury. There are outdoor cooking facilities and a fire pit to enjoy on cold evening's whilst taking in the beautiful canopy of the stars. The safari tent also has a wood burner to compliment those chilly evenings with the family.
Fully Fitted Bathroom
Fully Equipped kitchen
TV/DVD Player
Veranda with dining table
2 King sized beds (one of which is a cabin bed)
2 Single beds
Electric lighting
Gut-Buster Breakfast – £45
(Family Breakfast for 6 people)
12 x Bacon
12 x Sausages
12 x Organic Eggs
12 x Hash Browns
2 x Tin of Baked Beans
Organic Mushrooms
Tomatoes
Farmhouse Loaf
Brown Sauce
Ketchup
Chilli Enchilladas Kit – £25
(Enchilladas for 6 people)
Steak Mince
Chilli Spice Mix
Kidney Beans
Tinned Tomatoes
Red Onion
8 Soft Tortilla Wraps
Cheddar Cheese
6 x Jacket Potatoes
Family BBQ Pack – £40
30 Piece BBQ Pack
(4 Beefburgers, 4 Chinese style Chicken Thighs, 4 Pork & Apple Burgers, 4 Smokey BBQ Chicken Drumsticks, 6 Traditional Sausages, 4 Smokey BBQ Chicken Wings)
6 x Soft Rolls
2 x Little Gem Lettuce
Cucumber
Salad Tomotoes
Salad Potatoes
Ketchup
Mayonnaise
Fondue Retreat Box – £25
Selection of Soft Fruits
(Strawberries, Blueberries, Pineapple, Banana; this will vary due to availability and seasons)
Marshmallows
Biscuits
Nutella
Double Cream
We have designed the above hampers specially for families in mind to enjoy in the Safari Tent.
All existing Retreat Boxes are also available too. For our full range of Retreat Boxes and Extras please click here.
Please be sure to read our full terms and conditions before you book!